FracLock limits exposure to the danger zones, boosts stages completed each day, and cuts operational expenses.
FracLock technology clears all wellsite workers from dangerous areas during operations. Crews will no longer have to enter risky areas to look for leaks, secure hammer unions, or adjust whip stops. Keeping everyone out of harm's way.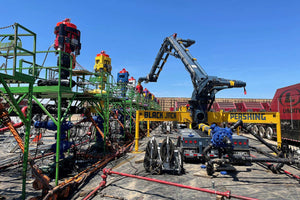 NEW LEVELS OF
SAFETY & EFFICIENCY
FracLock is an integrated collection of equipment engineered and constructed to speed up well production and advance safety at the well site. The system combines four distinct components including the FracLock, an articulated well fluid connection arm, dynamic high pressure flow iron, and operational control unit.