The FHE RigLock safely and quickly connects your pressure control equipment to the wellhead.
With a unparalleled design, the RigLock™ makes rigging up and down more efficient while adding unmatched safety measures to protect your team from costly injuries.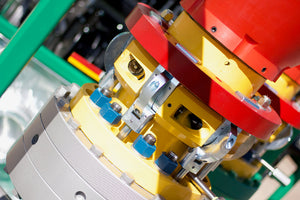 IMPROVED SAFETY
THROUGH INNOVATION
The RigLock™ removes individuals from the dangerous and compromised position of connecting by hand unsecured equipment to the wellhead. The RigLock™ securely attaches these toolsand equipment with remote hydraulic actuation. The locking connection maintains the pressure for you beginning your wireline operations.